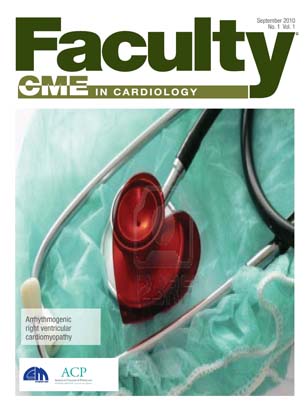 Faculty CME in Cardiology
Published: September 2010
CCM fills the void for CME in the field of everyday clinical practice by publishing FACULTY CME, an innovative series.
CME is an acronym that stands for Continuing Medical Education. CME consists of educational activities which serve to maintain, develop, or increase the knowledge, skills, professional performance and relationships that physicians and other health professionals use to provide services to patients, the public and/or the profession. The content of CME is that body of knowledge and skills, generally recognized and accepted by the profession as within the basic medical sciences, the discipline of clinical medicine, and the provision of health care to the public.
FACULTY CME is a convenient way to fulfill CME requirements while acquiring important information about the latest advances in medicine.
In every issue the reader finds a series of specially-written CME articles with questionnaires and answer sheets to allow for CME credits. FACULTY CME was designed to solve the problem of CME accreditation for specialists and general physicians. Each journal is compiled by the CCM editorial team in collaboration with the American College of Physicians, based on an ongoing review of international literature. Articles are selected for citation and review on the basis of their relevance to clinical practice.