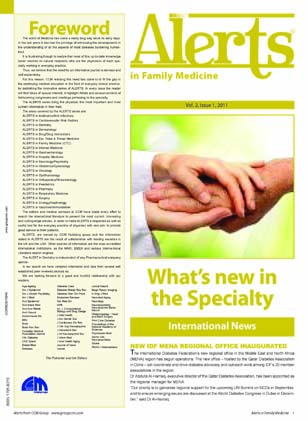 Alerts in Family Medicine
Published: January 2010
Alerts are a CCM original publication. CCM realizing the need to fill the gap in continuing medical education in the field of everyday clinical practice, has published the innovative series of Alerts, in association with ACP, ASCO and other prominent Medical Societies. In every issue of each Alerts, the reader will find news of special interest, a highlight article and announcements of forthcoming Congresses and Meetings pertaining to each specialty.
The editors and medical advisors at CCM have access, often exclusive, to comprehensive international literature sources. We compile and extract information for each specialized edition of Alerts in order to present the most current, interesting and cutting-edge articles, and to position Alerts as a respected, useful tool for physicians in everyday practice.
Alerts newsletters are owned exclusively by CCM Group, and the information published is obtained through our partnerships with leading medical societies in the UK and the USA. Other sources of information include highly-accredited international institutions such as the World Health Organization, EMEA, American College of Physicians, American Society of Clinical Oncology and more.
Alerts are independent of any pharmaceutical company opinion or influence, but rather reflect information and data from well-established, peer-reviewed journals. They reflect our latest innovative approach to providing the best medical knowledge to doctors around the world.
The Alerts series bring the physician the most important and most current information in their field.
The areas covered by the Alerts series are:
ALERTS in Antibiotics/Anti-Infectives

ALERTS in Breast Cancer

ALERTS in Cardiovascular Risk Factors

ALERTS in Dentistry

ALERTS in Dermatology

ALERTS in Diabetes

ALERTS in Drug/Drug Interactions

ALERTS in Ear, Nose & Throat Medicine

ALERTS in Family Medicine (OTC)

ALERTS in Gastroenterology/Hepatology

ALERTS in Hospital Medicine

ALERTS in IVF

ALERTS in Neurology

ALERTS in Obstetrics/Gynecology

ALERTS in Oncology

ALERTS in Ophthalmology

ALERTS in Orthopaedics

ALERTS in Osteoporosis

ALERTS in Paediatrics

ALERTS in Pain

ALERTS in Pharmacy

ALERTS in Prostate

ALERTS in Psychiatry

ALERTS in Respiratory Medicine

ALERTS in Rheumatology

ALERTS in Surgery

ALERTS in Urology/Nephrology

ALERTS in Vaccines/Immunization
The editors and medical advisors at CCM have made every effort to search the international literature to present the most current, interesting and cutting-edge articles, in order to make Alerts a respected as well as useful tool for the everyday practice of physician with one aim: to provide good service to their patients.
The ideas and opinions expressed in this publication do not necessarily reflect those of CCM Group. Publication of an advertisement or other product mentioned in this publication should not be construed as an endorsement of the product or of the manufacturer's claims.
ACP or ASCO or any other Medical Society, are not involved in selection, authorship, or production of content beyond agreement for articles from their journals to be included.