We believe that the work we do matters at a high level because it ultimately improves human health. Touching patient lives and providing unique and personally valuable benefits is our goal.
CCM Medical Publishing aims to educate, inspire and earn credibility. Each of our publications has been designed to meet a specific need in the healthcare industry. Our policy is to provide the medical community with high quality, reputable publications in various languages that will enhance medical practice and encourage the exchange of information.
We will continue to add to our list of titles and translations.
Enjoy!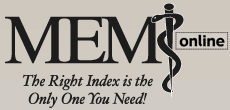 MEMI is a highly specialized, organized drug reference compiled for the benefit of medical professionals, listing nearly 3000 products from over 120 manufacturers. The sections of the Index facilitate retrieval of information easily and efficiently. MEMI is considered today to be the most comprehensive drug reference in the Middle East.