Value Is in the Eye of the Beholder
(29 Apr)
"Value-Based Medicine," if not yet a term for the ages, is an increasingly embraced concept for our times of diminishing health care resources, a time for doing more with less. The risks of not taking this reality seriously are borne out by Sequestration, another newly coined term in our vocabulary, and a warning that the failure of public discourse to find solutions to difficult economic and political problems leaves no one unscathed. Value-Based Medicine, in turn, has spawned a new category of research, Comparative Effectiveness Research, designed to provide an evidentiary basis for practicing less costly health care.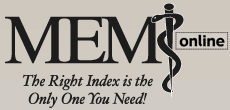 MEMI is a highly specialized, organized drug reference compiled for the benefit of medical professionals, listing nearly 3000 products from over 120 manufacturers. The sections of the Index facilitate retrieval of information easily and efficiently. MEMI is considered today to be the most comprehensive drug reference in the Middle East.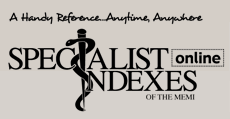 Specialist Indexes are pocket-sized versions of MEMI, the leading drug reference in the Middle East. Specialist Indexes are broken down by medical speciality, targeting hospitals and specialist centers throughout the Middle East.