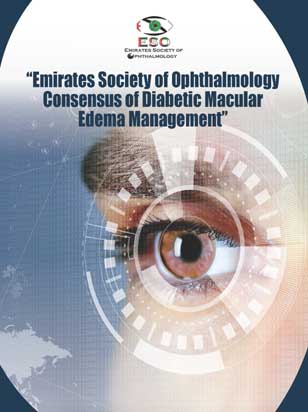 Update in Ophthalmology
Published: December 2020
The aim of this Diabetic Macular Edema (DME) management Consensus is to continuously
advance the standard of Ophthalmology practice in UAE by providing such information on
vision health in the form of guidance in order to improve eye and visual health in the UAE
community and beyond.
The aim of the guidelines is to provide evidence-based, clinical guidance for the best management
of different aspects of diabetic eye disease. The foundations of the guidelines
are based on evidence taken from the literature and published trials of therapies as well as
consensus opinion of a representative expert panel convened by the Emirates Society of
Ophthalmology with an interest in this condition. The scope of the guidelines is limited to
management of Diabetic Macular Edema with special focus on sight threatening retinopathy.
It offers guidance regarding service set up to facilitate delivery of optimal clinical care for
our patients. The guidelines have been prepared primarily for ophthalmologists; however,
they are relevant for other healthcare professionals, service providers and commissioning
organizations (e.g. Insurance companies) as well as patient groups. The guidelines do not
cover rare, complex, complicated or unusual cases. It is recommended that readers refer to
other relevant sources of information such as summaries of product characteristics (SPCs)
for pharmaceutical products as well as other clinical literature or guidelines if necessary.